Hey y'all! Blessed Yule and welcome back to my blog! I teamed up with Jeneen over at Lipstick Legion Craft for her Yulidays celebration! You can check out my video with the full process of the Book of Shadows page I made as my contribution and then hop over to her channel and check out all of the Yuliday fun!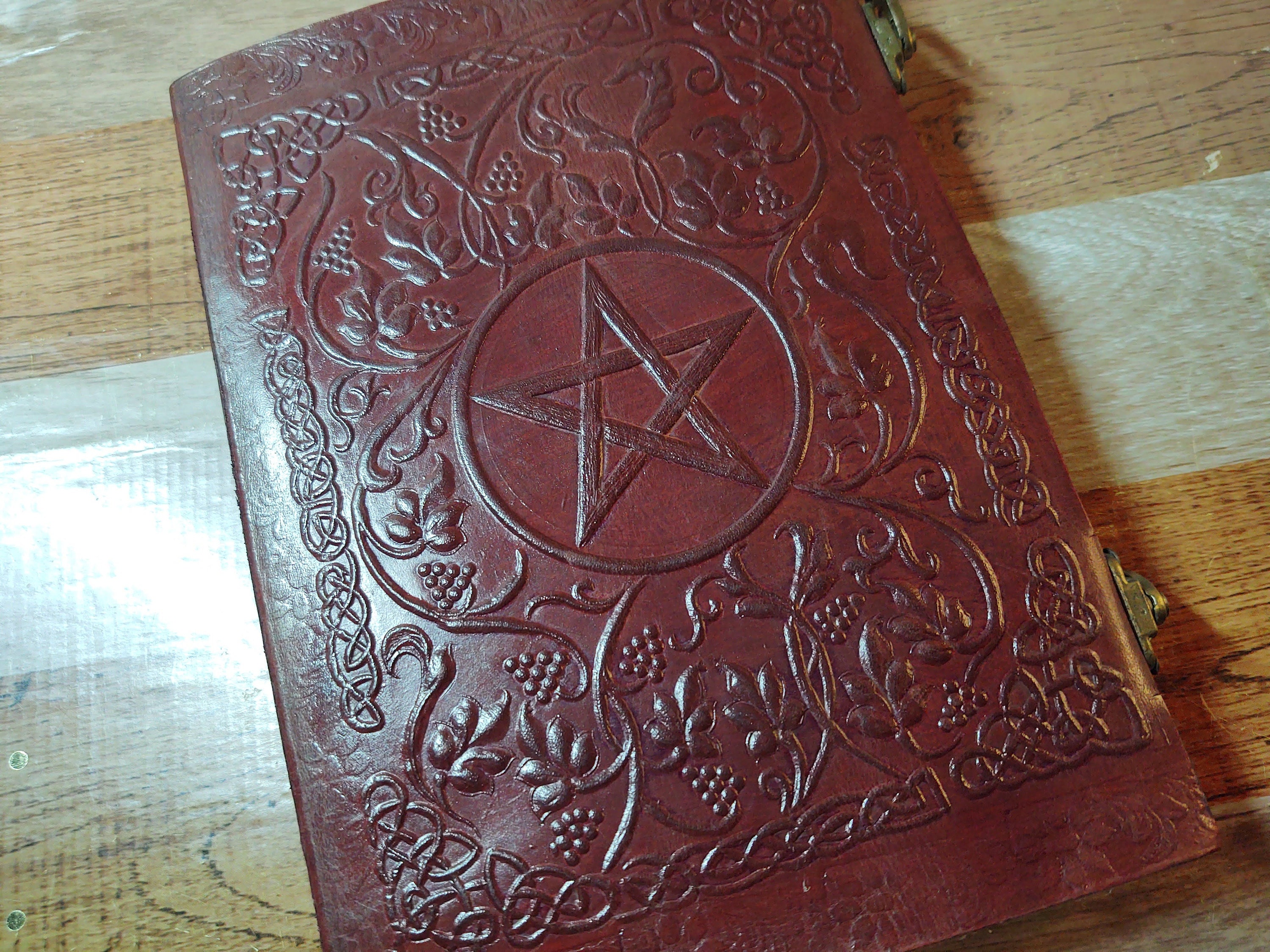 I wanted to make a simple functional pocket page to show you how quickly you could put a page together that tells the full story of what you want to make. The book I used was a handmade book I bought on Etsy for the Den of the Wanderer channel before I decided that I wanted to combine the two channels into one. Still, waste not, want not, so I'll be using it here on the channel and the blog all next year. It has a beautiful cotton rag paper that's superior for writing on but doesn't hold up to mixed media, let alone single media very well which is a little disappointing. No worries though, we'll make it work! Approaching this like an altered book gives us a lot more flexibility. Such as the ability to turn the pages into pockets! 
So I started out making a sigil on my Ipad with a specially designed badge to convey more imagery of the season. I lost the screen share I recorded as the file got corrupted, but it wasn't that interesting tbh. If you want me to show more about my sigil making process then drop a comment on the video and I'll add that to the roster of content I make for the channel next year! 
Then I turned the sigil into usable gift tags that you can find here free for personal use: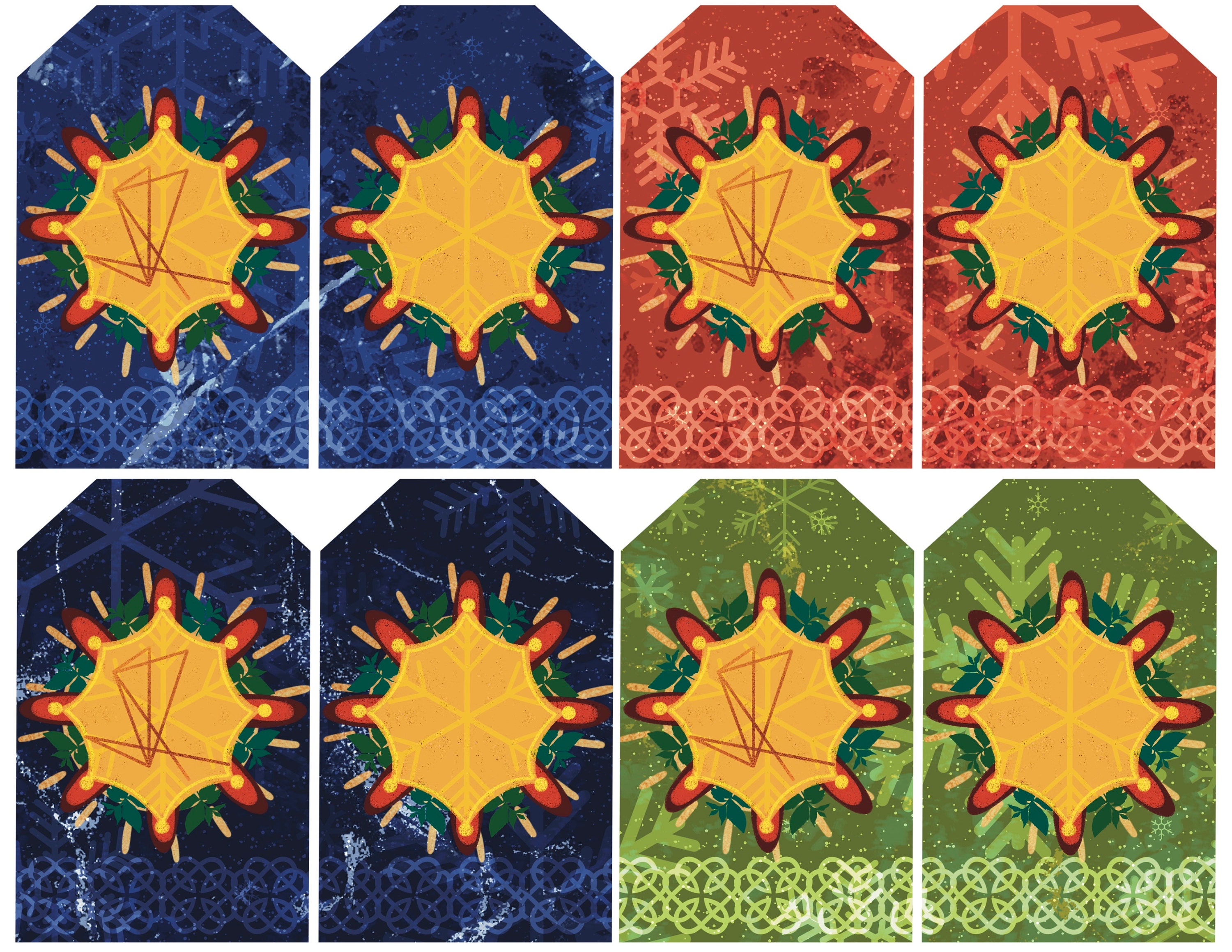 Then all it took was a little paint, a little fussy cutting and some stickers and we had a pretty and functional Book of Shadows page!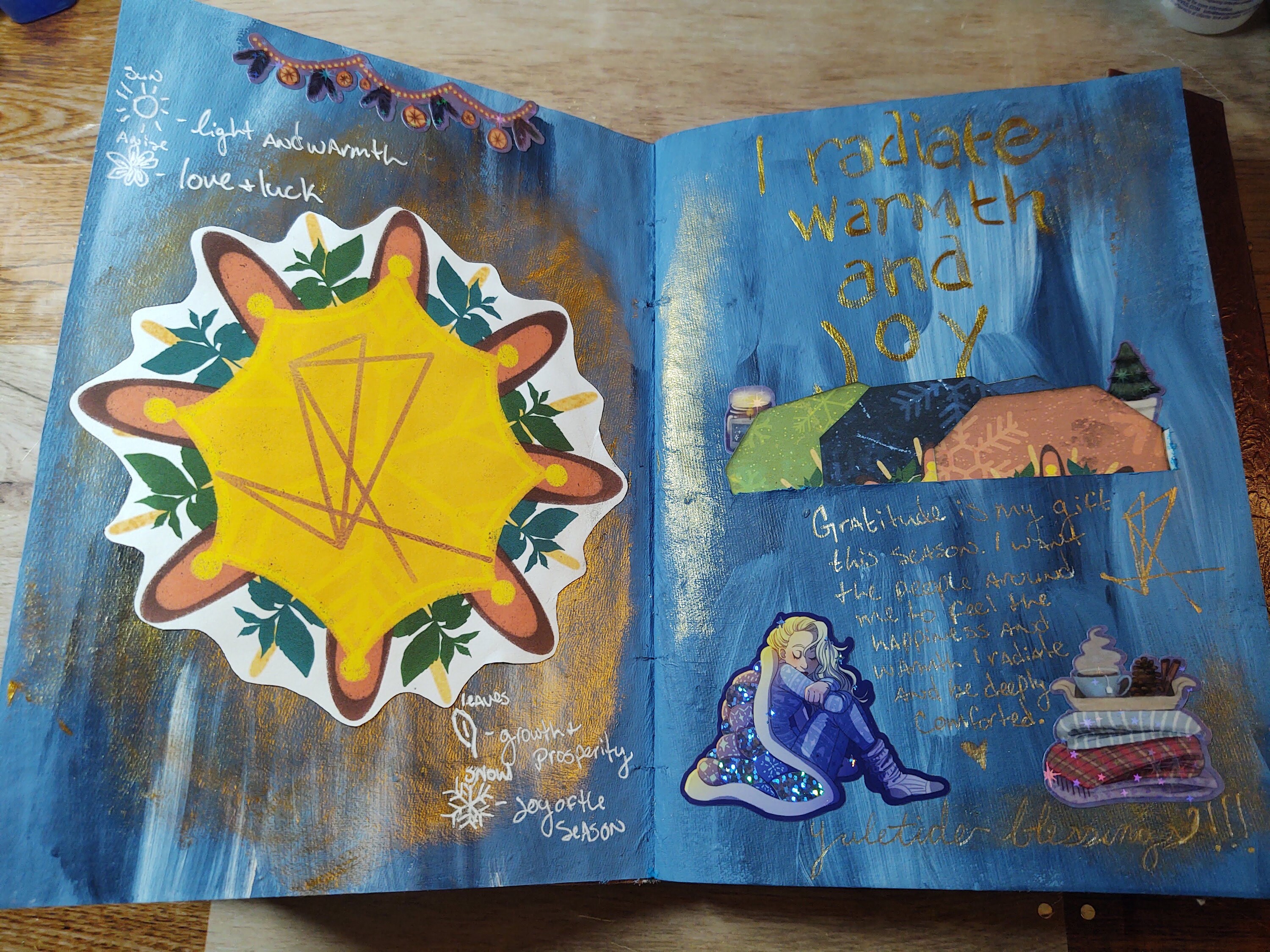 The page came out great and I absolutely love all of it! The sigil really comes through and gets across what I struggled to explain in the video. I want to radiate warmth and joy, the spirit of the season wherever I go this month and I want to spread that warmth to everyone I'm close to.  So making gift tags that I could attach to gifts I give to the witchy or witchy-minded people around me seemed like a perfect way to spread the love, but also to keep the magic working.   A little bit of an energetic boost and these tags are good to go and I can get them easily anytime I need. 
Here's some closeups so you can see the details a bit better: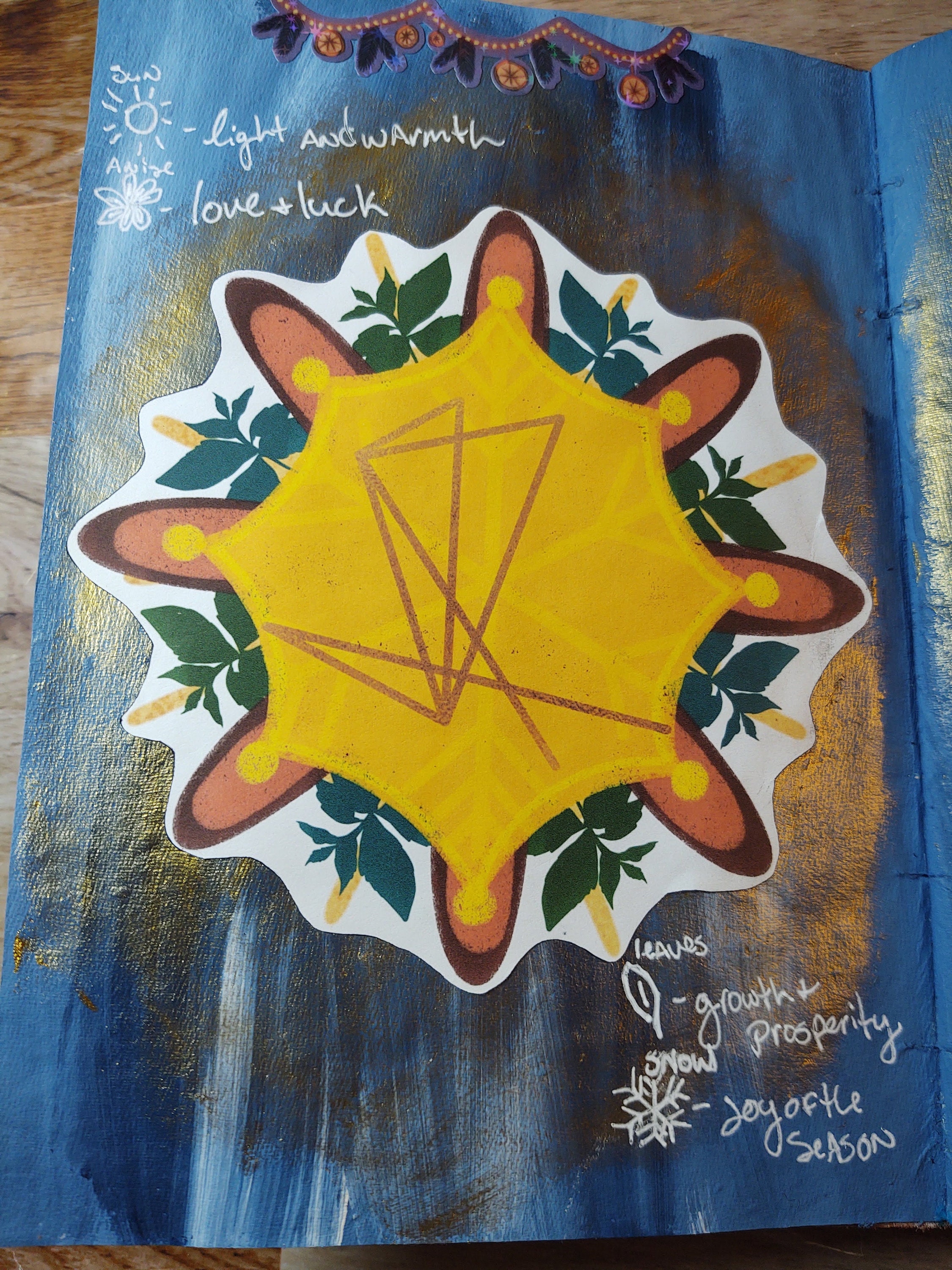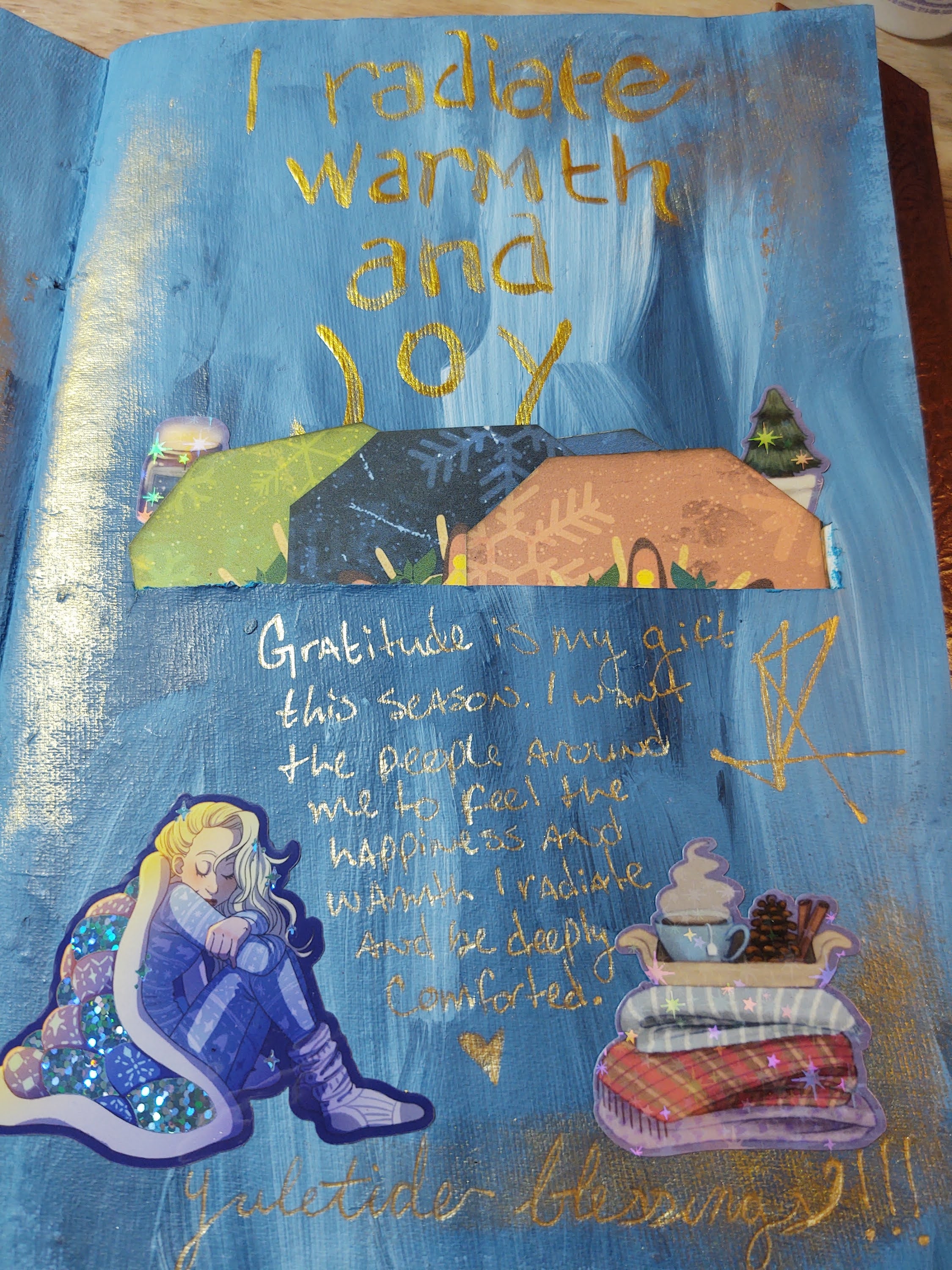 That's a wrap on that! I hope your Yuletide is full of warmth and joy and that this finds you well. May we all move through the season safe and happy and with our boundaries intact. Here's looking forward to a great 2022! Can't wait to see you guys back on the channel! 
I appreciate your faces!
-Priscilla